As 2019 approaches its final countdown towards 2020. With so many things that happened this year, starting from the unusually morbid midterm-senatorial elections where the people  yet again voted clueless leaders to the once sacred halls of the Senate. Then we have the never ending policy of mass-slaughter ordered and encouraged by none other than the Chief Executive himself since he assumed power more than three-years ago. Next, we have the stalled Build Build Build program where much of structures and projects presented in Pro Duterte Propaganda pages were envisioned and started by the former administration.
All of these happening right past as we endure another year of Duterte's brutish, corrupt and incompetent regime. But apart from the fog of war in Philippine politics and diehard fascism portraying his somewhat "Pro Poor" image with images of him sleeping in his Kulambo and or dining in a Karenderia. All to show that he was no rich elite and that he was just an ordinary member of the society, all flaunting his seeming humility as a leader. How touching don't you think?
"..A public official's solemn oath would be to uphold three principles: "serve and protect the people, practice transparency and accountability, and shun corruption.." – Rodrigo Duterte (2016 / Presidential oath taking ceremony)
According to official records by the government as raised by excellent investigative reporters at PCIJ that President Rodrigo Duterte has failed to submit his SALN as of 2018 last year thereby violating Republic Act No. 6713 (Code of Conduct and Ethical Standards for Public Officials and Employees) or The SALN Law, the Ombudsman's national office is the custodian of the SALNs of the President, Vice President, senior officials, and star-rank military and police officers.
This is absolutely unusual and pretty contrary to his own marching orders of complete transparency, public accountability and of course his famed anti-corrupt rhetorics including pushing corrupt politicians out of the helicopter and during the campaign, even challenged his political enemies to sign a bank waiver to prove that they are not hiding their wealth from the public. Cheeky huh? (Here's an image below that was taken by Rappler as of 2016)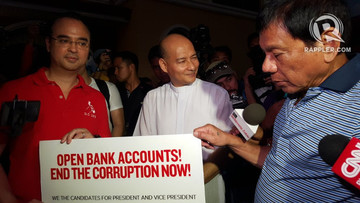 He was even previously lauded by many during his signing of his Executive Order No. 2 which gives operational efficiency of the Freedom of Information operationalized Freedom of Information in the entire executive branch also requires the full public disclosure of, among other public documents, the SALN of all executive officials — himself included. (Here's a screenshot of the EO No. 2 order that he signed in 2016)
PCIJ and the members of the media, has repeatedly requested information about our leaders SALN as they have been mandated by law to release and provide full disclosure of their assets and liabilities. However, such requests from June to November 2019 were denied because of an identical reason: The Ombudsman has yet to finalize its new guidelines on the release of the SALNs of the President and other senior officials.
Remember that the Chief Justice of the Supreme Court was illegally and unceremoniously removed from office due to the fact that she was unable to submit her SALN on time. With many of Duterte's supporters and sycophants attacked her left and right in the bid to remove her without giving her the privileged of being impeached through Senate proceedings and be afforded due-process to defend herself.
Other branches of the government started hiding their SALN from the people
Oh boy! This was not an isolated incident as well as other branches of the government have been hiding or issued certain rules and guidelines which makes it difficult to request a politician's SALN even they have been required by law to provide them. For example, February this year. Gloria Macapagal Arroyo signed passed House Resolution No. 2467 that prescribed "Rules of Procedure in the Filing, Review, and Disclosure of, and Access to, the Statements of Assets, Liabilities and Net Worth (SALNs) of Members, Officers and Employees of the House of Representatives."
Essentially, it made it difficult for the members of the press and or any taxpayer to formally request SALN records of any Congressman in the Lower House because of Gloria Arroyo's signing of the said House Resolution.
In the same manner, Senate Policy Order 2019-001 that the Office of the Senate President (OSP) Vicente Sotto III issued on Feb. 27, 2019. Changed the former more open and transparent Senate and making it a completely secluded slimy pool of greedy crocodiles like him. Now it makes perfect sense, that Duterte condoned all of this in his bid of ultimately controlling all branches of the government as a de-facto dictator.
The saddest part of this is that the rest of the populace were all suffering from poor government services, worsening traffic, and high-prices of goods as well as low minimum salaries while adding the burden of being a contract worker where any of them could easily be removed from their jobs at any time.
How could Duterte mocked the so-called "Oligarchs" as his rallying battlecry of pushing "Pro Poor" and "Pro People" reforms when he himself have acted in bad-faith in hiding his wealth from the public?
Share this with your friends!