House Speaker Alan Peter Cayetano a known Duterte campaign-donor and ally now leader of the Lower House of the 18th Congress of the Philippines has since been put in the hot-seat after numerous complaints lodged by many of the participating teams of the 30th SEA Games due to delayed accommodations and mediocre food options despite a 183 million peso budget for catering. And then next, the most symbolic of it all was the allegedly overpriced cauldron amounting to 55 million pesos when in fact it barely ever cost more than 1 million based on its poor workmanship and use of low quality steel.
Congress crocodiles defend their King "Cayetano" instead of the people who funds their lavish lifestyles
Despite being asked to hold himself accountable and resign as PHISGOC chair. Cayetano instead insisted that all of the logistical problems, poor planning and of course overpriced structures were merely normal and in fact blurted out that this was the best in SEA Games history and then accused critics of merely trying to divide the Filipinos and distrupt the games, with even many of his supposed allies in the Congress were in fact been planning on mulling charges of treason against bloggers who continued to lay bare their incompetence and brazen corrupt practices.
If Cayetano and the rest of his ilk had nothing to hide. Then it would be more prudent to submit themselves to full-scrutiny and investigation. After all, all we really want is the truth? And the truth will of course set us free? Nevertheless, our pursuit of accountability is not tainted by political maneuverings whatsoever, but merely a humble call of reason to inform and explain to the people why, despite all the generous budget's Cayetano's PHIGSOC received from the government — yet, still the quality of food, accommodations and logistics continues to hamper the success of the games and even further inconvenience many of our visitors and participating delegates from other countries.
Should there hasn't been any problems. And no foreign delegates filed formal complaints against the SEA Games organizers then all criticisms will be surely minimized or maybe nothing at all. As the people would be more focused on supporting our athletes and enjoying the actual SEA Games opening.
"Alan Peter Cayetano Remember the name. This guy was given 6 BILLION PESOS to host #SEAGames2019 and all we have so far are substandard athlete provisions, unfinished/untested sports facilities, chaotic arrangements, and a mint-new 50 million cauldron. Nakakahiya!," @MissEverywhere_ tweeted.
Because of all the problems that bogged down 30th SEA Games hosting while putting the country's dismal preparations and hosting in the front-pages of newspapers worldwide, perhaps surely Cayetano must've felt the sting there, but instead he remained unfazed from the public's massive calls resignation. Not even a drop of delicadezza. He instead tried to deflect his missteps and incompetence and shifted the blame over the Senate particularly Drilon who has questioned his overpriced cauldron and most particularly the "media" who were merely covering the SEA Games hosting truthfully reporting what transpired on the ground and on the actual venue themselves. Does Cayetano expect them to lie just like Mocha Uson?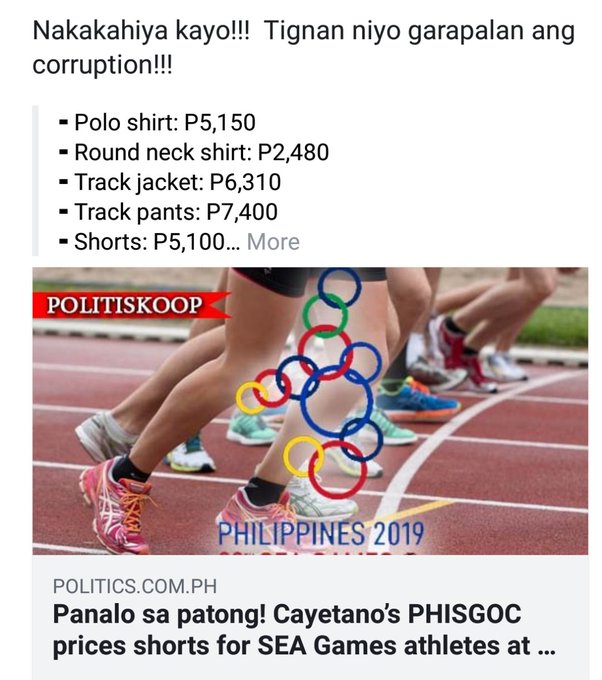 The worst part is that despite all the huge public backslash online on Cayetano's brazenly dismal performance of handling PHISGOC and of course the tell-tale signs of corruption. Yet, the majority of his friends and colleagues in the House of Representatives reportedly seek to defend him and even went as far as to calling him King when in fact they themselves were merely voted as a "representative" of the people and "Cayetano" is no King.
How long do we have to agree with all of this? When fascist supporters and those merely asking accountability from the government — pitched against each other. Quarreling and debating on which administration is better etc. Instead of uniting our voices as one and seeking only the protection of our common national interests and the full accountability of our leaders to remind them that they are no King!
Share this with your friends!