This is the most stupid justification that most DDS or say Duterte's troll-machinery could think of to try twisting the narrative that those who criticize the government were ultimately the one's to blame and the plunderers and incompetent people were also infallible beings and may not always be normal under special circumstances.
First and foremost, there won't shouldn't have been any criticisms at all owing the fact that as early November 21, 22 before the first tranch of SEA Games delegates arrive. Cayetano the chairman of PHIGSOC bragged that everything is ready and well-prepared. As quoted he said "I can tell you, handang-handa na tayo," despite the fact that many of the required infrastructures needed for the games were not yet completed.
Also, it appears that the fundings for the said event have been pretty much bloated to such degree where the organizers simply tried to match up the numbers whenever they could instead of trying to minimize the expenses necessary for the preparation of the games. For your information, the Philippine Sports Commission was given P6 billion under the 2019 national budget for hosting expenses.
But this figure excludes infrastructure, including a P11-billion deal between the Bases Conversion and Development Authority (BCDA) and Malaysian firm MTD Capital Berhad for New Clark City's sport facilities which government's corporate counsels found questionable. Also, it would have been better if the Rizal Memorial Coliseum had been upgraded as it would take lesser time and expenses only amounting to about P1.2-B which is a big-deal, especially to a country like ours who has recently been hit by major calamities which is already taking its toll on our fiscal liabilities.
So Drilon is making a very, very fine point here. Spend less money. Spend less time. Easy. But guess what? Cayetano and his gang didn't really care.
Worst, it also showed that P1.5 billion of the hosting, budget will not undergo public bidding. Which is pretty sketchy given that the PSC and PHISGOC has were similarly headed by Alvin Dizon which makes any of its possibly onerous.
Now the budget was used is being scrutinized by the public, after details were released showing extravagant and unnecessary expenses, such as the P50-million oversized cauldron to be used for the opening ceremony. And then the poor logistics and coordination, which resulted in many of the International delegates who has just recently arrived were not properly accommodated in the most timely manner. Pictures starts coming in showing them sleeping in coaches and on the floor.
Then we have the mediocre welcome tarpaulins and notice-boards in our airports straight out from Microsoft Word.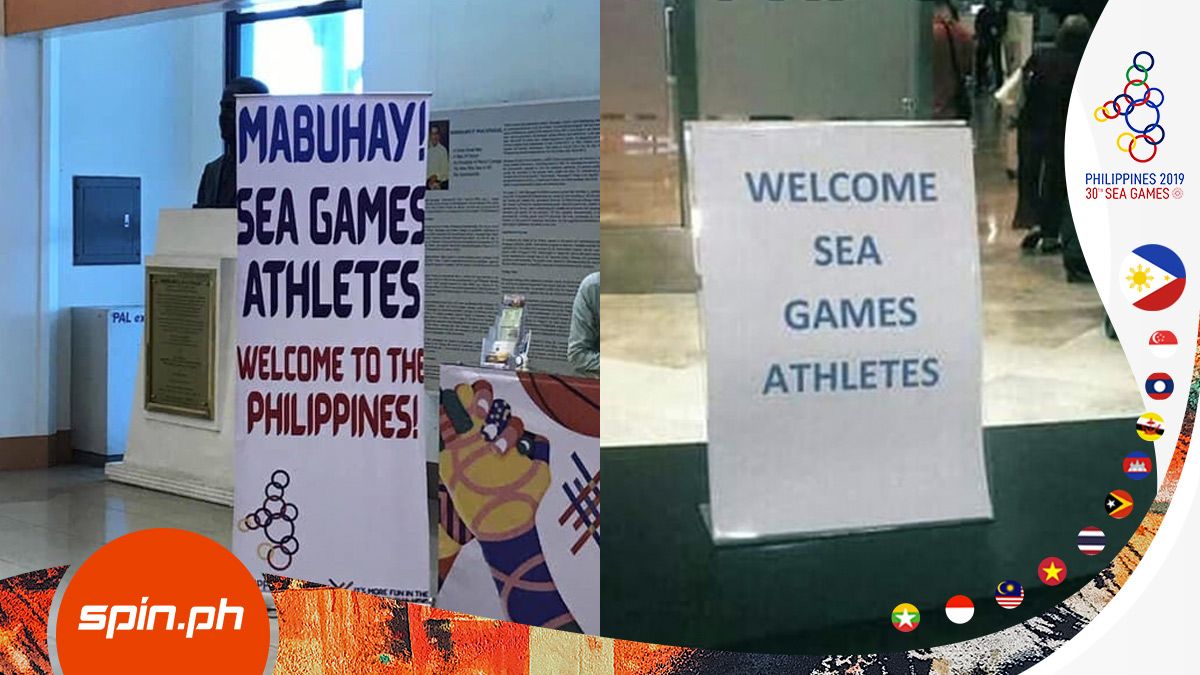 Of course, the ugliest SEA Games logo and mascot in Philippine history? As a graphic designer myself. This clearly isn't done by a professional. It looks like just some random person drawing various circles then putting them together. How could you?
And then the overpriced cauldron which apparently cost 55 Million Pesos at the expense of tax-payers.
Next, we have ill-prepared breakfast consisting of "street-food" Kikiam which offers absolutely no nutritional value whatsoever for the athletes participating in the games. As Let Dimzon, coach of the Philippine women's football team shared her experience about the food they received from the organizers
"..I'm not sure kung paano ang arrangement ng Phisgoc, but the quality and quantity of food is not enough. Sa variety din, like for this morning, hindi enough 'yung rice and kikiam and egg. Walang nutrients.."
"Supposedly, this is an international competition, it should be international course. But I think maybe the budget Phisgoc is shelling out is not enough to cover the quality of food,"
Exactly, the question we should be asking. Where is the budget? Apparently the data released by PHISGOC showed that they allocated a budget of 183 Million pesos for the food. So technically, this should already cover a hearty, nutritious buffet for each of the 5,000 athletes participating in the games. Someone from Twitter made the calculations.
Next, we have the SEA Games Media Center, which should supposedly be the place where local reporters, including the ones abroad cover and monitor the games hasn't yet even been completed showing most of the walls with bare hollow-blocks then sets of lined-up monobloc chairs, scaffolding metallic beams and other construction equipment still in the area.
It is as if it's a venue for a Brgy Bingo or even an unfinished gym for a high-school intramurals event.
This is too cheap and mediocre. But the funny thing is that we didn't lack the budget for this? In fact, its extremely bloated that we're expecting that all of these things should have been covered from the start? Though, there might be some occasional hitches with logistics but this is just totally unacceptable. This is the direct result of corruption in plain-sight.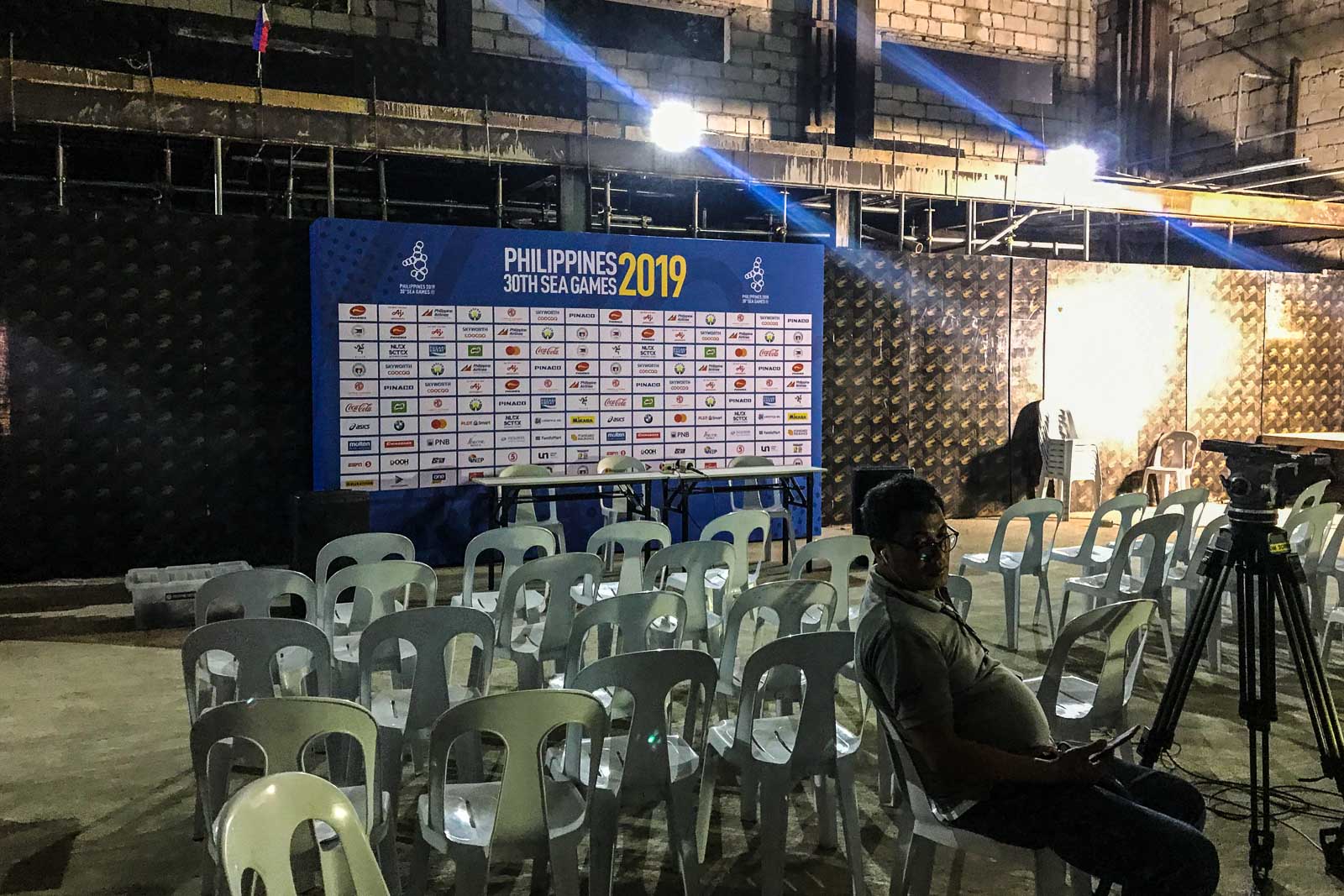 Have a look. Did you think this is befitting for an International event like the 30th SEA Games?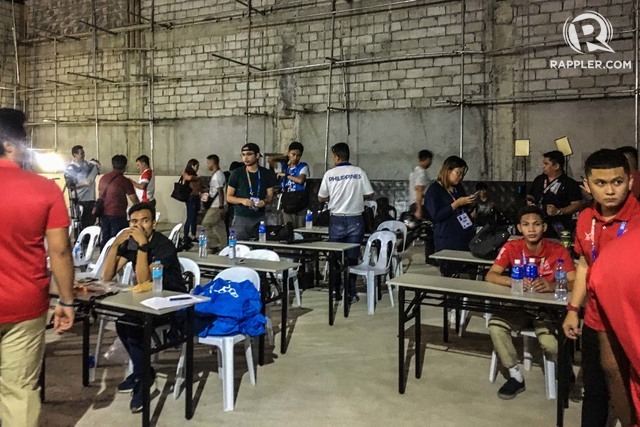 Then we have the duplicated ID's of journalists – seems like someone weren't paying attention or simply lack the manpower to get the ID's encoded and printed out properly?
All of these things happening and most of the Die Hard Dutete Supporters want us to shut-up and just support the government. Why should we? Do we just have to be silent, blind and mute whilst all of these things were putting the country in great shame? And other nations were just laughing at our incompetence?
For decades, we have been known as very hospitable and caring to foreigners, which is why many tourists flock the country, not only by its wonderful landscapes and sceneries but of its friendly, accommodating locals. And yet, we couldn't even properly host an International event like the 30th SEA Games?
Politicians plunder our taxes — and yet we are still required to support their incompetence?
If there had not been any serious problems which of course were not initially raised by the critics but by the International delegates who experienced the maltreatment and lack of respect by the SEA Games organizers. These people are not fools. They have attended to numerous International sports events in different countries. If these things were normal elsewhere, I don't think they'd have to the guile to complain.
Funny how the "Duterte Discipline" applies only to the lower-class, detractors, critics, but not to the corrupt politicians allied to Duterte. If this had happened in countries such as Japan or South Korea. It is highly-likely that these politicians already resigned out of shame. But look!? Most of them were even trying to shift the blame to others to cover up their mistakes?
I'm really sorry DDS and equally gullible horde of fanatical fascists. I can't support corruption and incompetence. But that doesn't mean I don't support our athletes. In fact, I do. I want better food, training, accommodations and of course I want them to succeed. However, those who politicians who surely benefited out from this chaos must be held accountable. No excuses.
Share this with your friends!