In a post published by one of the Philippines brilliant lawyer Pilo Hilbay. He detailed how the President could have made major errors in construing the issue of sovereignty over the exclusivity that the nation's EEZ provides under UNCLOS.
Here's his post below :
According to the President: "No country in the world has a sovereignty sa kaniyang economic zone. It is not a question of sovereignty. Ang recognized lang 'yung 12 [miles]," he added.

"We cannot drive them away because they have insisted na kanila," he said.

Duterte said that the governments of the Philippines and China have mutually agreed to allow fishermen from both countries to trawl in the disputed waters.

These statements are erroneous under international and domestic law.

1. Under Art. 73 of UNCLOS (where both Philippines and China are members): "The coastal State [The Philippines] may, in the exercise of its sovereign rights to explore, exploit, conserve and manage the living resources in the exclusive economic zone, take such measures, including BOARDING, INSPECTION,ARREST, AND JUDICIAL PROCEEDINGS, as may be necessary to ensure compliance with the laws and regulations adopted by it in conformity with this Convention."

2. The "small maritime accident" which almost led to the deaths of 22 Filipino fishermen happened in Recto Bank, which is 82 nautical miles from the Philippines and 547 nautical miles from China. Under the 2016 decision in Philippines v. China, we don't share any "overlapping entitlements" with China over Recto Bank. Reed Bank, its living and non-living resources, is within our Exclusive Economic Zone, allowing us to exercise rights to the exclusion of others, including China.

3. These rights under international law are consistent with our Constitution and fisheries laws. Under Rep. Act. 8550, as amended by R.A. 10654: It shall be unlawful for any foreign person, corporation or entity to fish or operate any fishing vessel in Philippine waters.

The entry of any foreign fishing vessel in Philippine waters shall constitute a prima facie presumption that the vessel is engaged in fishing in Philippine waters.

4. The obligation of the President to protect our waters exist both in our territorial sea and our exclusive economic zone. Under Article 1 of our Constitution (National Territory): the national territory comprises the Philippine archipelago, with all the islands and waters embraced therein, and all other territories over which the Philippines has sovereignty or jurisdiction.

Our exclusive economic zone is part of our National Territory.

Rep. Act. 8550 specifically defines "Philippine Waters" as "all bodies of water within the Philippine territory… and all other waters over which the Philippines has sovereignty and jurisdiction including the 200-nautical miles Exclusive Economic Zone and the continental shelf."

Art. 12 of our Constitution is also clear: The State shall protect the nation's marine wealth in its archipelagic waters, territorial sea, and exclusive economic zone, and reserve its use and enjoyment exclusively to Filipino citizens.

CONCLUSION: Whether it's in an area where we have sovereignty (territorial sea) or sovereign rights (exclusive economic zone), it is a fact that we have enforceable rights under both domestic and international law, and the President has the constitutional duty to enforce these rights.
Acts of the President inconsistent with these obligations are a culpable violation of the Constitution and a betrayal of the public trust.
Pilo Hilbay is the former Solicitor General who won us the Arbitration case filed against China in the Permanent Court of Arbitration. So you can be very sure that this guy knows what he's talking about.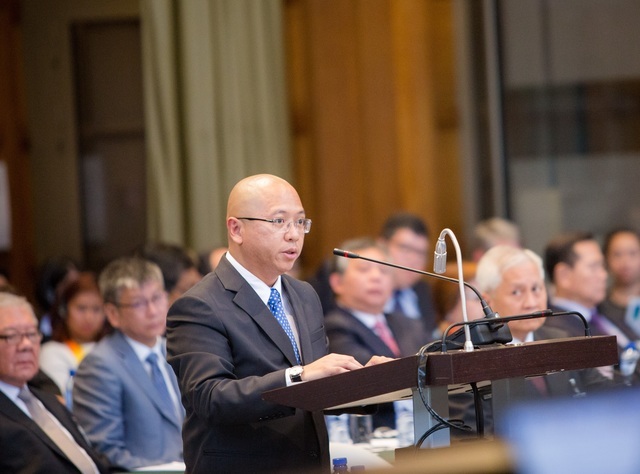 Hilbay is among our rare public servants with the courage to speak out against the Duterte administration's policies towards China. For Hilbay, what belongs to the Philippines should remain for the Philippines and he is willing to risk life and liberty to protect our interest.
For those worried about China's creeping invasion, Hilbay is the man who will fight the cause. After all, he has done it before. Armed with one of the sharpest minds of our generation, Hilbay dragged China to court and won.
Share this with your friends!