There's really heaps of things we can compare between two leaders in their visit to Japan. One of which is on how the business community and high-echelons of Japanese society warmly welcomes and support of them. On one hand, we have the former President Aquino, who gave a speech in front of Japanese lawmakers which he then received a standing ovation while the other is the incumbent President Duterte whose speech were abruptly stopped while speaking in front of many Asian leaders in a 25th Nikkei Conference on the Future of Asia in Tokyo.
On Aquino's speech in Tokyo. It is a rare honor for a President to be invited to speak before the Diet, Japan's "highest organ of state power.
Aquino brought the Philippine flag to the Assembly Hall of Japan's National Diet in an address before its joint session June 4th of 2015. In his speech, Aquino commended Japan for trying to help a small country like Philippines against the abuses of China on the West Philippine Sea, following the establishment of concrete military structures and reclamations in the disputed waters.
A near full house of legislators presents at the 480-seat bicameral session, listened intently to the Philippine leader through simultaneous interpretation in their ear pieces, mostly silent through the 20-minute remarks.
"For your support in igniting and sustaining Philippine economic growth, bringing us closer to our goal of an equitable and inclusive society; in helping us recover from disaster and increasing our resilience to vulnerabilities; and in promoting peace and stability in our conflict areas, on behalf of my people, let me say now: 'Domo arigato gozaimasu,'" – President Aquino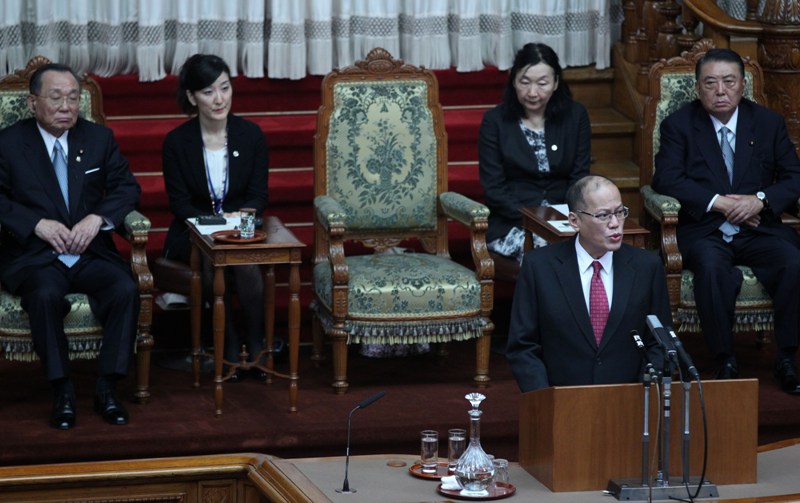 Through Masaaki Yamazaki, president of the Upper House, the parliament recognized the Aquino administration's gains over the past five years, particularly the country's growth, noting that the Philippines is an important economic player in the Asia-Pacific. Members of the parliament, with Prime Minister Abe in the front row, expressed their appreciation for the message with a standing ovation and extended applause as soon as the President finished.
According to the Philippine Embassy based in Tokyo. Japanese officials said that they've been so touched and moved by President Aquino's brilliant speech which re-affirms the alliance between countries, despite the dark years of World War 2 and the brutal Japanese occupation of the Philippine home islands.
The Duterte's speech in Tokyo was stale, hollow, empty and full of non-sense
I listened through Duterte's speech at the 25th Nikkei Conference on the Future of Asia in Tokyo, Japan and I hear nothing but utterly unintelligible phrases it as if he just woke up from his usual "power nap' or maybe he forgot to take his daily dose of Marijuana or maybe even he didn't really know what so much about the economy and business and things like that. How the hell do we expect him to talk about these things?
Of course, the audience wasn't too happy of his speech. I looked at their faces and none of them seemed to have shown much interest to whatever he is saying. And then in the middle of his speech. A Japanese man came and gave him a short note pleading him to conclude his speech. No better way of saying "Can't you just shut up!?"
Watch the video here below.
Share this with your friends!