As early as 2017. There have been plans for upgrading the airstrip in the Pag-Asa island. One of the largest and inhabited reefs in the West Philippine Sea which dangerously sits 15 miles close to the nearest Chinese reclaimed Subi, Fiery and Mischief Reefs which contained military installations such as cruise missiles, airplane hangar etc. The Philippines on its part has long planned to upgrade the facilities on the island. The plan was already announced, bidded out and funded back during the time of President Aquino however it, unfortunately, faced delays due to unpredictable weather.
The plan to fix the runway in Pag-Asa Island which was actually built in the '70s involves constructing a beach ramp and a mooring bollard which would allow larger planes and ships to land and dock in the island to bring in more construction materials for expanding the airstrip.  However, after several years. The project has officially started in May of last year according to satellite imagery.
Satellite images showed that a Chinese navy Jianghu V-class frigate and Zhaoduan-class coastguard cutter were off Thitu on December of 2018 when the number of Chinese vessels had peaked at 95. Last month, in a satellite image below People's Liberation Army navy type 056 corvette spotted near Pag-Asa island possibly attempting to intimidate the supply ships docking into the Philippine controlled island.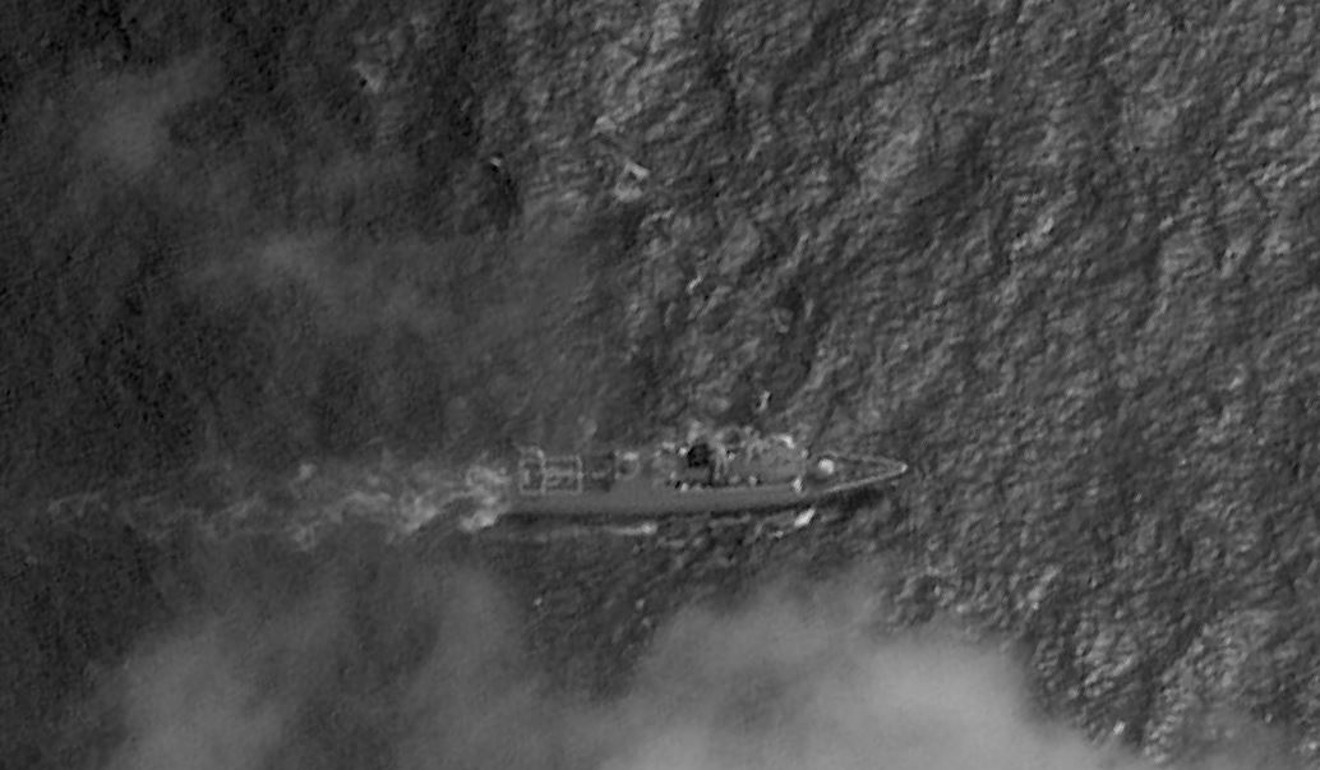 China has no legal claim in the West Philippine Sea. Zero. Nada
You have to remember that China no longer has legal claim over the West Philippine Sea after the Philippine Court of Arbitration ruled to debunk their nine-dashed line claim out from an outdated makeshift nautical map using Chinese translations of already established ancient Philippine maps during the Spanish period. The historic victory against China in the Permanent Court of Arbitration should embolden policy-makers in the Philippines to toughen up and call out China's withdrawal from our seas and cease all harassment operations of our poor fishermen.
China should respect UNCLOS and Philippine's Exclusive Economic Zone. Withdraw and remove its military assets within our seas. And then cease its military harassment of our poor fishermen operating within our 200 Mile Exclusive Economic Zone.
Why is the President silent about the Chinese invasion?
There's an awful lot of developments happening in the West Philippine Sea since Duterte assumed office. And we know that most of these developments could have far grave circumstances that could put our national security at risk and shoves all our hopes of reclaiming WPS out the table. The rapid Chinese invasion and militarization of the West Philippine Sea appeared to have gone mostly unchecked during the term of President Duterte. His seemingly Pro-Chinese stance despite China's huge environmental culpability in its illegal reclamation and dredging works as well as its illegal harassment of Filipino fishermen within our seas. Also, worth noting the recent ramped up construction on Subi, Mischief and Fiery reefs. Which now includes cruise-missiles that can attack any ship as far as the coast of Palawan even a portion of the Mindanao sea within its crosshairs. Not to mention the recent landing of an "aircraft bomber" which really doesn't justify China's supposed defensive military structures when they seemed to be gearing up for an offensive war.
Have we heard a single diplomatic protest from the Philippine side amidst all of these blatant intrusions, threats, and harassment from the Chinese military? We have since been suffering economic repercussions brought about by the rapidly declining fish-catch due to China's harassment of Filipino fishing boats within our seas. How long could we allow the Chinese military to threaten us with their big guns? While our President holds hand-in-hand with the Chinese leadership? And his cabinet and allied politicians whose voice were muffled with millions worth of Chinese loans?
Share this with your friends!