I can vaguely remember that it was way back in the 05's to 07's.  When our TV set flickered up for a state-broadcast coming from the Malacanang Palace. There shows a woman — the former President Gloria Macapagal Arroyo. She looked pale and what looks to me a tench of sadness and guilt lingers through her eyes.
It was a statement regarding the alleged wiretapped conversation between the Gloria Macapagal Arroyo and the Election Commissioner Virgilio Garcillano which assured Gloria Macapagal Arroyo that the votes will be counted in her favor particularly in certain areas in Mindanao.
The infamous "I am sorry" statement
So the lady on the TV screen started speaking. She said the words nonchalantly and carefully. It was obvious that she's reading it all from a telemprompter and I'm pretty sure she knows what she's going to say before she's actually going to say it. It was rehearsed and a prepared speech for the President.
Mga minamahal kong kababayan.

For the last several weeks, the issue of the tape recordings has spun out of control. Tonight, I want to set the record straight. You deserve an explanation from me, because you are the people I was elected to serve.

As you recall, the election canvassing process was unnecessarily slow even after the election results were already in and the votes had been counted.

I was anxious to protect my votes and during that time had conversations with many people, including a Comelec official. My intent was not to influence the outcome of the election, and it did not. As I mentioned, the election has already been decided and the votes counted. And as you remember, the outcome had been predicted by every major public opinion poll, and adjudged free, fair and decisive by international election observers, and our own Namfrel.

That said, let me tell you how I personally feel. I recognize that making any such call was a lapse in judgment. I am sorry. I also regret taking so long to speak before you on this matter. I take full responsibility for my actions and to you and to all those good citizens who may have had their faith shaken by these events. I want to assure you that I have redoubled my efforts to serve the nation and earn your trust.

Nagagambala ako. Maliwanag na may kakulangan sa wastong pagpapasya ang nangyaring pagtawag sa telepono. Pinagsisisihan ko ito nang lubos. Pinananagutan ko nang lubusan ang aking ginawa, at humihingi ako ng tawad sa inyo, sa lahat ng mga butihing mamamayan na nabawasan ng tiwala dahil sa mga pangyayaring ito. Ibig kong tiyakin sa inyo na lalo pa akong magsisikap upang maglingkod sa bayan at matamo inyong tiwala.

I took office with a mandate to carry out a plan for the nation. Since that time, I have focused on making the tough but necessary decisions to make up for years of economic neglect. We passed a comprehensive, fiscally responsible national budget; raised new and necessary revenues to invest in the people; and implemented new anti-corruption measures that have led to the highest collection of taxes in history.

Nothing should stand in the way of this work, or the next phase of my reform agenda, which includes new investments in education and social services with our new revenues; and an expansion of our successful, anti-corruption and lifestyle checks.

That is why I want to close this chapter and move on with the business of governing. I ask each and everyone of you to join hands with me in a show of unity, to help forge one Philippines, where everyone is equal under the law, and everybody has the opportunity to use their God-given talents to make a better life.

Our nation is strong and getting stronger. The progress is steady and I ask you to walk with me on this journey to rebuild our great nation. I remain your humble servant and promise you that I will fulfill my constitutional oath of office to serve the people to the best of my ability.

God bless the Philippines.
Notice the use of words within the context of the "I am sorry' paragraph. Where the part that she explicitly mentioned her anxiousness regarding the counting of her own votes. Which coincides with the allegations of election sabotage against her competing candidate Fernando Poe Jr.  Otherwise, it would have been totally pointless to express an apology on something that really hasn't done anything wrong or has no effect in the present electoral process.
I was still young in those days and I am not as keen as I am now when in comes to political issues. So I did a lot of digging and have to come to a point where the extent of Gloria Arroyo's treachery during the elections were just the tip of an iceberg.
From 2001-2009. The scandalous rule of the first woman President of the Philippines.
Year 2001 – Payola for Mr ArroyoShortly after the ouster of Joseph Estrada and seizing the highest seat of the palace through yet another historic EDSA People Power. Her presidency has started to show signs of anomaly and maliciously concocted political maneuverings.

Correspondence secretary Veronica "Bing" Rodrigo accused first gentleman Mike Arroyo of taking a P50-million bribe in July 2001. The bribery was said to be for President Arroyo to recall her veto on two franchise bills. The first bill involved the Philippine Communication Clearinghouse which sought a franchise to operate a clearinghouse where telco firms were to interconnect for a certain fee. The second bill granted APC Wireless Interface Network a franchise to build a wireless telecommunication system nationwide.
The companies were allegedly owned by Jaime Dichavez, a close friend of former President Joseph Estrada, who allegedly used Pacifico Marcelo as his dummy. According to Rodrigo, a woman named Malou Nuñez from the office of the Presidential Legislative Liaison Office under Gabriel Claudio approached her, inquiring about the request to veto the bills.

Rodrigo is a friend of the president, having been classmates in grade school and high school. Their parents were close friends.

Marcelo alleged that President Arroyo called him to stop lobbying for the franchise and that the three of them—the First Couple and Marcelo—will establish their own company. Marcelo turned down the offer.

The president did not recall her veto of both bills. Arroyo also said that the First Gentleman never asked her to recall the veto. Her husband denied receiving any money and claimed that Rodrigo was the one who received the bribe. Rodrigo later retracted her allegations in the Senate blue ribbon committee hearing.

Year 2001 – PCSO funds for admin candidates' campaignIn October 2001, Roberto Rivero, former consultant of the Philippine Charity Sweepstakes (PCSO), claimed that the first gentleman used almost $5 million of PCSO funds to finance the campaign of some senatorial candidates and to bribe radio commentators. President Arroyo asked the Office of the Ombudsman to investigate her husband. The PCSO denied Rivero's accusations. When asked by the Ombudsman for evidence, Sen. Panfilo Lacson, who exposed this, was unable to present any.Years later, in May 2007, another former PCSO senior executive, Cirilo Avila, said the funds were made to appear as payment for ad placements but were really used as People Power Coalition (PPC) campaign funds. Avila narrated that the PPC requested the funds and manager Ver Angelo took it up with the board. The request was approved.
Year 2001 – Nani Perez's 'extortion'Four days after assuming office, Arroyo awarded a $470-million contract to Argentine firm Industrias Metalurgicas Pescarmona Sociedad Anonima (IMPSA) to rehabilitate a power plant in Laguna. A few months later, former Manila Representative Mark Jimenez, the man who brokered the deal, accused Justice Secretary Hernando Perez of extorting $2 million in exchange for a justice department opinion that favors the deal.Jimenez told Senator Lacson that the entire amount was actually $14 million: Perez received $2 million, the National Power Corporation "boys" got $1 million, Malacañang was given $4, and $7 million went to Jimenez.

In April 2008, the office of the Ombudsman, headed by Merceditas Gutierrez, filed graft charges against Perez, his wife Rosario, Ernest Escaler, and Ramon Antonio Arceo Jr.

But the graft and robbery charges were junked by the Sandiganbayan in November 2008 as the Ombudsman failed to expedite the complaints, making Perez immune from the charges, indirectly acquitting Perez.

Perez's pending case with the Sandiganbayan is on his falsification of public documents.

In May 2009, Perez filed his third petition asking the Sandiganbayan to dismiss the charges of unethical practices filed against him for allegedly not declaring $1.7 million in his 2001 Statement of Assets and Liabilities and Net Worth (SALN) saying that Arroyo herself approved his SALN when she assumed office. Perez was then a member of her cabinet.

Year 2001 – Ninang of jueteng boss
President Arroyo agreed to be the godmother of alleged jueteng boss Bong Pineda's son. In an interview with Time, she said that she sought advice from Manila Archbishop Jaime Cardinal Sin who said, "The sins of the father are not the sins of the son."Later events revealed the nature of Arroyo's ties to the Pinedas. In 2005, during the height of the Senate probe on the "Hello Garci" scandal, Army Capt. Marlon Mendoza quoted Virgillio Garcillano and said Pineda gave P300 million to fund Arroyo's presidential bid in 2004.

Another witness, Michaelangelo Zuce, nephew of Garcillano claimed that Pineda's wife, Lilia Pineda, handed out envelopes containing P30,000 each in January 2004 during a party hosted by the president in her La Vista home in Quezon City.

Year 2001 – Anti-poverty funds? Pocketed?
Conceptualized by the Caucus of Development (Code-NGO), the PEACe bonds (Poverty Eradication and Alleviation Certificates) were issued by the government supposedly to help raise funds for the anti-poverty activities of its member organizations. But there were allegations that Code-NGO used its political connections to profit P1.4 billion in a series of transactions from the PEACe bonds worth P35 billion pesos.Code-NGO was chaired by Socorro Camacho-Reyes, sister of then Finance Secretary Jose Isidro Camacho.  Camacho-Reyes denied, in a Senate hearing, that her brother helped him.
Year 2001 – Shut up! Take the money!
Rear Adm. Guillermo Wong, then Flag Officer in Command of the Philippine Navy, exposed irregularities in the Philippine Marines' procurement of equipment worth P3.8 million.This did not sit well with Marine officials. Then Armed Forces chief of staff Angelo Reyes offered Wong another post, chief of the Northern Command, practically demoting him. This forced Wong to resign.

When asked to comment, President Arroyo said Reyes had done "the right thing." Fresh from retirement, Reyes was immediately appointed defense secretary.

Year 2002 – Overpriced Macapagal BoulevardSulpicio Tagud Jr., then board director of the Public Estates Authority (PEA), exposed the P600-million overprice of the construction of the GSIS-funded 5.1-kilometer President Diosdado Macapagal Boulevard in the Manila Bay reclamation area. The contracts were approved during the Estrada administration and were given to three companies: Shoemart Inc., DM Wenceslao, and Jesusito D. Legaspi Construction (JDLC).A series of supplemental contracts with JDLC were later approved by the PEA board under the Arroyo administration that increased the original approved cost of their section of the highway. According to Tagud, while the SM group of companies constructed its part of the boulevard at P54,000 per lineal meter, JDLC built its section at P302,000 per lineal meter.

Arroyo asked PEA and the Government Service Insurance System officials to submit a full report on the project to Presidential Legal Counsel Avelino Cruz. After the the report was submitted, Arroyo asked the entire PEA board to go on leave until the Presidential Anti-graft Commission submitted the results of its investigation.

In February 2008, the Sandiganbayan said it will continue the probe on JDLC despite the firm's motion to dismiss the alleged overpricing of the boulevard.

Year 2002 – The garbage contractThe Jancom controversy involved a $360-million (P18 billion) incineration project in which the Jancom Environment Corp. (JEC) would burn 3,000 tons of Metro Manila garbage a day for a tipping fee of $10 per ton. During his term, President Ramos did not approve the contract and President Estrada likewise debunked it because JEC raised the tipping fee from $10 to $59 per ton.Despite the passage of the Clean Air Act and the Ecological Solid Waste Management Act (both banned the use of incarcerators) , the Supreme Court declared the contract valid in April 2002 in a decision penned by Justice Jose Melo.

Still, Arroyo said the deal had many flaws. Arroyo passed the decision to the Manila Metropolitan and Development Authority (MMDA) to decide whether the deal is disadvantageous to the government or not. Although negotiations had started between the MMDA and Jancom, Arroyo called off the deal in April 2002.

Year 2002 – Mismanaged funds
Issues on mismanaged funds by the Philippine Amusement and Gaming Corporation (PAGCOR) and the GSIS caught the public eye in 2002. PAGCOR had been experiencing negative cash flows that bloated to P850 million in 2003. A Pagcor manager gave three reasons behind the financial difficulties: 'onerous' contracts, profligate spending, and massive, mindless donations.GSIS president and general manager Winston Garcia ordered its units to stop the processing of claims and loan applications because of financial difficulty. The Kapisanan ng Manggagawa attributed the financial problems to the following: Garcia's cash advances amounting to P3.4 million, the establishment of district offices worth P4 million each, and the appointment of outside legal counsel for P200,000 a month.

Garcia allegedly used GSIS money to purchase Juan Luna's Parisian Life painting. Likewise, Garcia was said to earn P540,000 a month and appointed some 130 vice-presidents who earn P70,000 a month. There were allegations that GSIS contributed at least P100 million to the campaign funds of Pres. Arroyo. Garcia was retained in his post despite appeals from GSIS employees.

In 2004, before the Senate committee on government corporations and public enterprises, Garcia dismissed the charges and said GSIS is "the country's top performing government-owned and controlled corporation." He did not comment on the Juan Luna paintings.

Year 2002 – Mr Arroyo as OFW envoy

In December, President Arroyo designated Mike Arroyo as an OFW envoy so he could represent her in the countries she could not visit. However, critics assailed Arroyo's announcement when they learned that his activities as OFW envoy would be funded by a proposed overseas workers legal assistance fund. They feared that the Arroyo couple would use the funds for her 2004 campaign. While the President did not recall her husband's designation, the First Gentleman voluntarily resigned.
Year 2003 – Naia's Terminal 3 ScandalIn 2002, Transportation Secretary Pantaleon Alvarez obtained overpriced subcontracts for public works projects related to the terminal. Among these is Wintrack Builders Inc., owned by Alvarez, which bagged a site-development project.Piatco was also accused of paying huge sums of money to Alfonso S. Liongson, PR consultant and said to be an associate of the First Gentleman, for permits or supplementary agreements to the contract.  In 2003, Arroyo revoked Piatco's build-operate- transfer contract and the government took over the airport in 2004. After almost a decade, the airport was partially opened in 2008.
Year 2003 – Rotten rice
In February 2003, Nueva Vizcaya Rep. Carlos Padilla revealed that 600,000 metric tons of rice imported from India were found to be rotten and moldy. Kishore Hemlani, an Indian trader allegedly close to Arroyo, reportedly bagged the P9.5 billion contract for the rice importation.Anthony Abad, head of the National Food Authority, had to dispose of some P2.2-million worth of moldy rice stocks and tried to dispose of the remaining sacks in order to recover at least P2.5 billion.
Year 2003 – Undeclared wealth in San FranciscoSince she got elected in 1992 as senator, Arroyo had failed to declare in her Statements of Assets, Liabilities and Net Worth the properties her husband Mike Arroyo bought in San Francisco through his California-based LTA Realty Corporation. According to Newsbreak, Mike acquired, resold, and managed at least five properties with a total value of at least $7.1 million in the Bay City from 1992 to 2000. The First Couple said the properties were bought in trust for Ignacio or Iggy Arroyo, Mike's younger brother.
Year 2003 – Mikey Arroyo's imported horses
In August, news broke out that presidential son Juan Miguel "Mikey" Arroyo planned to import 32 thoroughbred horses from Melbourne, Australia worth P384 million (at P12 million per horse). Mikey denied the allegation but admitted that he was in the horse-trade business.He owns Franchino Farms along with cousin Franchino Pamintuan and friend Ralph Mondragon.
Year 2003 – Jose Pidal Accounts

In August, opposition Sen. Panfilo Lacson accused First Gentleman Jose Miguel Arroyo of money laundering: he allegedly siphoned off at least P321 million in campaign funds and contributions and put these in a secret bank account under the name Jose Pidal. He also supposedly used the names of his aides in three other accounts. According to Lacson, among the donors was then Rep. Mark Jimenez who gave P8 million. Arroyo's younger brother, Iggy, came forward and admitted he is Jose Pidal.
Year 2003 – Oakwood Mutiny
Defense Secretary Angelo Reyes' alleged involvement in selling arms and ammunitions to guerilla and bandit groups moved 300 young officers and enlisted men of the AFP to rebel against the government in July. Reyes was forced to resign a few weeks later. The rebel soldiers were detained.The 321 armed soldiers apologized for the failed rebellion. In 2004, 133 of the soldiers were freed. Capt. Nicanor Faeldon, one of the alleged leaders, escaped in December 2005. Four other leaders escaped after Faeldon did. Faeldon was captured in 2007 but escaped again a few months after.

Reyes, since then, has held other Cabinet posts: environment secretary and energy secretary.

Year 2003 – Congress vs. Supreme Court
The clash of the two co-equal bodies was all about the billions of pesos in Judiciary Development Fund (JDF) and how it was spent. The Nationalist People's Coalition (NPC) and its allies in Congress, peeved that they were being ignored by the Supreme Court, went after Chief Justice Hilario Davide. They almost impeached him.President Arroyo acted on the controversy only when it reached crisis proportions. She was balancing between competing interests: her political support from Eduardo "Danding" Cojuangco's NPC and Davide's tenure on the Court.
Year 2004 – The super-rich general

In December, Maj. Gen. Carlos F. Garcia's son was apprehended by US Customs officials at the San Francisco airport for carrying $100,000 in undeclared cash. AFP Chief of Staff Narciso Abaya asked Garcia to explain and transferred him to another position.Later in the year, US Customs and the Federal Bureau of Investigation transmitted to the office of Ombudsman Simeon Marcelo a list of the amounts that General Garcia had brought into the US from 1993 to 2003, which was estimated at P71 million.

In October 2004, Garcia was charged with violating Articles of War 95 (conduct unbecoming of an officer and gentleman) and 96 (acts prejudicial to good order and military discipline) for failing to declare all his assets in his Statement of Assets, Liabilities and Net Worth and for possessing a US green card. In April 2006, the military court sentenced Garcia to a two-year confinement without pay and allowance and dishonorable discharge. Garcia also faced graft charges in the same court.

In February 2009, Garcia's sons, Juan Pablo and Ian Carl were indicted in the US with one count of conspiracy to commit bulk cash smuggling, failing to file a report of monetary instruments, and making false statements to a US government agency. The sons were placed in US custody until proven innocent. On the same month, Garcia was found guilty of misdeclaring his assets and liabilities in 2000. He was acquitted from two other perjury cases.

On June 2009, the Sandiganbayan acquitted Garcia of the last perjury case, saying there was no proof that the retired general lied in his 1997 SALN. However, the retired general is still facing plunder and forfeiture cases in the Sandiganbayan and is still being detained in Camp Crame.

Year 2004 – Shortcut bidding of Northrail Project
The Northrail project started during Ramos's administration but it was only in February 2004 when Finance Secretary Juanita Amatong entered into a credit loan agreement with the Export-Import Bank of China. The agreement granted the Philippine government a $400-million loan facility to finance the construction of the project.Critics said the interest rate on the loan per annum (3%) is much higher than the rate on other loan packages that the Philippines could have availed itself of.  China National Machinery and Equipment Corporation was designated as the prime contractor for the project without public bidding. The Senate probed the issue but the hearings were stalled in 2005 after Malacañang issued EO 464, requiring Cabinet members to seek presidential clearance before they could testify in congressional hearings.
Year 2004 – Fertilizer Fund Scam
The controversy started when President Arroyo was accused of using fertilizer funds for the 2004 election. The fund, worth P728 million, fell under the Ginintuang Masagana Ani Program. Jocelyn Bolante, agriculture undersecretary and regarded as the architect of the fund, left the country and sought asylum in America. He came back to the country in 2008 and faced the Senate Blue Ribbon Committee.Bolante told the Senate that (1) he does not know who nominated or recommended him to be an agriculture undersecretary, (2) it was former Agriculture Secretary Luis Lorenzo who requested the release of the funds, (3) the fertilizer fund was valid and legal and was approved by the DA, and that (4) when he left the department in August 2004, 91% of the fertilizer funds had been liquidated already.

The committee recommended the filing of plunder and other criminal case against him and nine other persons but no case was filed. In January 2009, the panel who investigated the fertilizer fund scam submitted the proposed resolution to Ombudsman Merceditas Gutierrez.

No reports on the investigation have been released from both the Ombudsman and the justice department. In March 2009, Bolante disclosed a plan to run either as governor or congressman in Capiz, Roxas.

Year 2004 – Philhealth cards maliciously used for campaigningSix weeks before the May 2004 elections, two lawyers filed a disqualification case against President Arroyo, saying she was behind the enhanced Philippine Charity Sweepstakes Office's Greater Medicare Access or GMA program. Public funds were allegedly spent to enroll families in PhilHealth for one year. The premium cost of P1,200 for each family member was chargeable to PhilHealth and the PCSO. The IDs, bearing Arroyo's picture and name, were coincidentally distributed during the start of the election campaign.
Year 2005 – Hello, Garci Scandal

More than a year after the election, a recording of a telephone conversation between President Arroyo and election commissioner Virgilio "Garci" Garcillano was released to the public. In this conversation, Arroyo directed him to make sure she wins by one million votes. After weeks of ducking the issue, Arroyo apologized for "a lapse in judgment" in talking with an election commissioner but explained that she merely wanted to protect her votes.

Year 2005 – Hyatt 10

Eight cabinet members and two bureau heads, called the Hyatt 10, filed their irrevocable resignations in the aftermath of the "Hello, Garci" scandal and requested Arroyo to resign. The Hyatt 10 is composed of Secretaries Florencio Abad (education), Juan Santos (trade and industry), Emilia Boncodin (budget and management), Cesar Purisima (finance), Dinky Soliman (social welfare and development) , Rene Villa (land reform), Alberto Lina (customs), Guillermo Parayno (internal revenues), Teresita Quintos Deles (adviser on the peace process), and Imelda Nicolas of the national anti-poverty commission.



Year 2005 – Jueteng Scandal
In Senate hearings on jueteng that began in May 2005, jueteng operators and bagmen said the President's husband, Mike, her son Mikey, and her brother-in-law Ignacio or Iggy were among those who received monthly payoffs from gambling lords. The payoffs ranged from P500,000 to P1 million.One of the key witnesses, businesswoman Sandra Cam, testified that in December 2004,  she personally delivered the cash to Mikey and Iggy at the House of Representatives; the money came from retired Chief Supt. Restituto Mosqueda, former police director for Bicol and alleged protector of jueteng operations in Luzon.

Richard Garcia and Demosthenes Abraham Riva also told a Senate hearing that the three Arroyos had been receiving payola from jueteng operations in Bicol. Michaelangelo Zuce, an aide of former commissioner Virgilio Garcillano and a former staff member of presidential adviser on political affairs Joey Rufino, directly linked the President to jueteng by saying that before the 2004 elections, the President distributed money to several election officials in her house in La Vista, Quezon City, in the presence of Bong Pineda's wife, Lilia Pineda.

Garcia and Riva retracted their statements a few months later and said they were merely "coached" by Sen. Panfilo Lacson. Zuce's testimony failed to take off after one witness did not corroborate Zuce's claim. Former Isabela Gov. Faustino Dy Jr. who was also said to have been present at the La Vista meeting, flew to the US and refused to come to Manila to testify.

Year 2005 – Arroyo's spy.
Leandro Aragoncillo, a Filipino American in the US Federal Bureau of Investigation, was arrested for allegedly taking classified documents from computers in Vice President Dick Cheney's office and the FBI and sending them to opposition leaders in the Philippines. The documents were primarily analyses of the Philippines' political situation by US Embassy officials.Among others, the documents said that: "Arroyo has always exhibited paranoia and the need to control every aspect of the Philippine economy and politics. As time ticked out for her administration, it was clear the biggest problem was Arroyo herself."

Aragoncillo was charged with acting as an agent of a foreign government or official and faces up to 25 years in prison.

Year 2005 – Mega anomaly in Comelec
According to Solicitor General Alfredo Benipayo, the botched P1.3 billion poll modernization project of Comelec was overpriced by P500 million. Comelec ignored its own bidding rules and changed these to suit one favored bidder: MegaPacific Corp.The SC deemed the process flawed and declared the contract null and void. The Office of the Ombudsman committee created by Ombudsman Merceditas Gutierrez initially indicted Commissioner Resurreccion Borra but cleared him a few months later. Abalos and company were ruled to be not liable for the voided contract.
Year 2005 – Lozano's Impeachment Complaint and others
Oliver Lozano filled an impeachment complaint against President Arroyo during the height of the "Hello, Garci" scandal. Congress declared the complaint to be technically deficient. Oliver Lozano filed another impeachment complaint against President Arroyo on 2006. Like the first one, his second complaint was defeated due to insufficiency in substance.For the third time, Lozano filed his impeachment complaint against the President on 2007. Like the second version, this impeachment rap was dismissed for insufficiency in substance. Critics say Lozano's impeachment complaints were moves to hinder the submission of a solid complaint against the President.

Weeks after former Arroyo ally Jose De Venecia filed his impeachment complaint in 2008, Lozano took his fourth try with a four-page impeachment complaint penned with his daughter, Atty Evangeline Lozano, and another lawyer, Elly Pamatong.

Year 2005 – Mr Arroyo on a 1 Million Peso per night hotel suite in the eve of Pacman's fight.

During Manny Pacquiao's match with Erick Morales in Las Vegas, the First Gentleman allegedly stayed in a $20,000-a-night suite at the MGM Grand Hotel in Las Vegas, Nevada. Mike said that there was nothing corrupt about accepting the free luxury suite offered to him by the hotel. He argued that as the husband of a head of state, he was entitled to such perks.

Year 2005 – Unfair Toxic Waste Agreement from Japan
The Japan-Philippines Economic Partnership Agreement (JPEPA) was signed between Arroyo and former Japanese Prime Minister Junichiro Koizumi. The treaty aimed to promote investments and trade between the two countries. Various civil society groups contested the agreement because the government did not consult them. According to these groups, although the agreement secures employment in Japan, the treaty includes an "environmentally unjust bilateral trade."In 2008, the Senate finally ratified the agreement by a vote of 16-4 as the agreement was favorable since 95% of exports from the Philippines to Japan will have zero duties.

Meanwhile, numerous representatives from the House questioned the Senate decision as the agreement "will bring a tsunami of unfair trade and toxic wastes."

Year 2007 – Estrada PardonAfter spending six years in detention for plunder and graft and corruption charges, former President Estrada was sentenced to life imprisonment by the Sandiganbayan in October 2007. Three days after, President Arroyo granted him pardon citing a policy to release prisoners aged 70.
Year 2007 – ZTE Broadband Scandal
The scandal was exposed in August 2007, a few months after Transport Secretary Leandro Mendoza and ZTE Corp Vice President Yu Yong signed a $329.5 million contact for a national broadband network deal in April. President Arroyo and the First Gentlemen were said to have visited China for the contract-signing.Rep. Carlos Padilla (Nueva Vizcaya) said that Comelec chairperson Benjamin Abalos also joined the President in China to broker the deal. Abalos denied brokering the deal but admitted going to China four times. In September 2007, the son of Speaker Jose de Venecia Jr testified that he was with Abalos in China and that Abalos demanded money from ZTE officials.

The following day, the Supreme Court promulgated a TRO stopping the deal between the Philippines and China and gave ZTE 15 days to comment.

NEDA chair Romulo Neri testified in the Senate hearings and said Abalos tried to bribe him with P200 million but he refused to answer some senators' questions, citing executive privilege. Abalos resigned as Comelec chair in October 2007 as President Arroyo cancelled the deal in a trip to China.

Jun Lozada, former chief executive officer of Philippine Forest Corporation and NEDA consultant, testified in February 2008 that Abalos and the First Gentlemen were to receive kickbacks once the deal was signed. Speaker Jose de Venecia was unseated and got dragged into the deal when his son said he was also in China.

On July 2008, the SC dismissed three petitions that question the constitutionality of the deal and declared it moot and academic.

Year 2007 – Free Money from Malacanang. Bribe?
Pampanga Gov. Eddie Panlilio revealed that he was given a paper bag containing P500,000 in a Malacañang meeting in October 2007. The money was allegedly for community projects. The bags were handed out by a female Malacañang staff. Panlilio said he accepted the money because because no conditions were attached; he did not consider it a bribe. Various versions of the source of the money came out as other local officials present in the meeting admitted receiving either P500,000 or P200,000.Other officials who confirmed receiving money were Governors Joselito Mendoza, Leo Campos, and Representatives Rachel Arenas, Antonio Cuenco, Bienvenido Abante, Mauricio Domogan, Tomas Dumpit Jr, and some others who refused to be named. The named 9 officials were charged by the Office of the Ombudsman for allegedly receiving bribes. Due to numerous versions on the source of the money, Sen. Miguel Zubiri said during the Senate Blue Ribbon Committee hearing that the money has no direct link to the Palace.
Year 2007 – Glorietta 2 and Batasan bombings
After the string of controversies hounding the Arroyo administration, bombing incidents happened in Glorietta 2 and the House of Representatives. The police, in a speedy investigation, found that the bombing of Batasan was initially intended for Basilan Rep. Wahab Akbar.The Glorietta 2 bombing, on the other hand, resulted from gas leakage. Rumors spread that the bombings were perpetrated by the government to divert the public's attention away from the Arroyo scandals.

The Batasan bombing happened the day before Pampanga Gov. Ed Panlilio was set to testify on the bribery of local officials in the Senate and a day before the House justice committee was to hear the impeachment case.

The Glorietta 2 bombing happened during the height of the bribery case which took place in Malacañang.

Year 2007 – Extrajudicial killing of Jonas Burgos Of the numerous human rights violations, political killings, and abductions during Arroyo's administration, the case of activist Jonas Burgos has become the most prominent. Burgos was missing since late April and eyewitnesses said he was dragged from a mall in Commonwealth to a Toyota Revo by five men. The license plate of the Revo was traced to the 56th Infantry Battalion camp in Bulacan.
Year 2008 – Teehankee pardon

In 1991, Claudio Teehankee Jr was sentenced to life imprisonment after being found guilty of killing Maureen Hultman, John Roland Chapman, and wounding Jussi Leino. Last November 2008, President Arroyo granted Teehankee pardon. It was reported that the Hultmans "approved" the pardon and received a settlement of P6 million. The Hultmans were enraged that the pardon was "kept secret" and denied receiving the money.


Year 2008 – The Euro Generals
In an Interpol conference in Moscow, police comptroller director Eliseo De la Paz and his group were detained because of carrying undeclared cash worth 105,000 euros (P6.9 million). At the time of the conference, De la Paz had already retired from service.When the group returned, the Senate called for hearings on the issue. De la Paz said the money was "cash advance" for "emergency cases." His statement was questioned as PNP Chief Jesus Versoza said the money was for purchasing intelligence equipment.

The Senate recommended that the justice department and the Ombudsman conduct a preliminary investigation on the PNP delegates to the Interpol assembly as the group violated the travel ban under Administrative Order No. 103, the law on allowable travel expenses, and the rule on retired officials or those about to retire. The report also proposed a preliminary investigation on interior and local government chief Reynato Puno and Versoza for allowing the group to travel and for ignoring the travel ban.

As of March 2009, De la Paz settled the remaining 65,000 euros, fully paying for the cash advance and avoiding a civil law suit.

Year 2008 – Impeachment Complaint

Joey de Venecia, son of former House Speaker Jose De Venecia, filed an impeachment complaint against President Arroyo, particularly because of the overpriced NBN-ZTE broadband deal. The complaint was found sufficient in form but was dismissed after  House representatives voted 42-8, ruling the complaint as insufficient in substance.
Year 2009 – Changing the Constitution through CON-ASS
In 2005, Arroyo initiated a move to change the Constitution and transform the present presidential- bicameral republic into a parliamentary- unicameral form of government but failed.By late 2006, the House shelved a plan to revise the Constitution through a constituent assembly. In June 2009, two days before the House adjourned, they passed HR Bill 1109. The bill calls for a Constituent Assembly to amend the 1986 Constitution.
Most of these scandals happened within her almost decade long thirst for power. Unfortunately, it didn't take long. The damage was irrepairable. Even the JMSU Agreement with China which Arroyo clearly allowed Chinese survey ships to infilitrate and explore certain areas in the WPS which was clearly within our 200 Mile Exclusive Economic Zone under UNCLOS.
Right now, Duterte the current President of the Philippines has allowed Arroyo to return in the spotlight and keep a tight-leash on the House of Representatives so they all agree with Duterte's wants and needs. Basically, a stamp-pad Congress.
As we are now heading to murkier waters of sketchy and unthinkably stupid government polices such as Chinese debt-trap loans with little or no resistance at all from the current regime. Add in to the the increasing spite of extra-judicial killings and tax-reforms which only imposed unnecessary sufferings to the Filipino people.
Arroyo has a hand on everything that Duterte wants. An interconnected web of one-party gang or political syndicate or basically referred to as the 'super majority'.
Arroyo cleared by court on election sabotage allegations.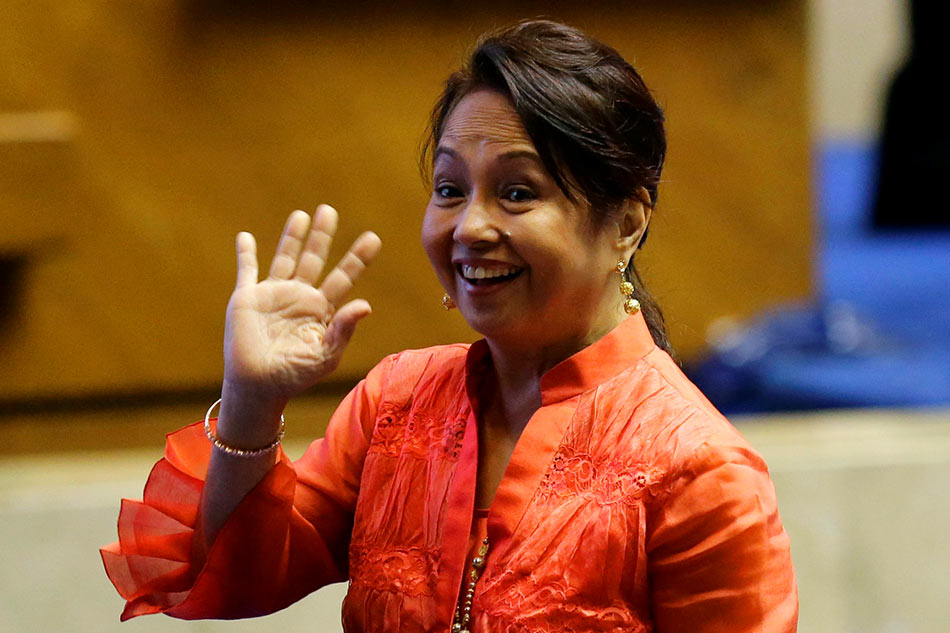 Just one day ago. We've all been shocked when the court finally exonerated the former President of election sabotage despite glaring evidence such as the recorded tapes and her televised statement about "concerns in her number of votes" is enough for us to put her guilty.
Sadly, the judicial system in this land has turned from bad to worst. Now, anyone can be jailed, maimed or killed if you don't agree with the political syndicates or even with Duterte himself.
Unli Martial Law
Unli Term for Politicians
Unli Political Dynasty
Unlimited Power
Unli Korap
Unli Epal
Unli Pahirap
Arroyo's has all been cooking this up for Duterte as Charter Change bill passes through third-reading in the House of Representatives. So as anyone guessed. Why not just get these political syndicates pass a law which gives them the ability to steal public funds without fear of any accountability. Or perhaps, even ban the election totally so that we don't really need elect people into office?
It's very sad that this is happening to our country right now. And many of our countrymen continues to wade in murky dark waters of disinformation. Our divisiveness has made us weak and ripe for political manipulation. Until the day that we stand together and hold our leaders accountable for their actions instead of turning our dreaded weapons against each other in pursuit of our fanatical biases. Then this country – could and will be better.
Hopefully in the future.
Signed. Juan Luna.
Share this with your friends!