We know so well that there's been lots and lots of traitors in world history. In the annals of history, we've known great leaders and or civilizations who have done so well only to fail after a betrayal. One famous example is Say Julius Caesar who at the height of his unwavering power and influence was killed by Brutus. The man whom he was so closed with and passionately fond of; he even spared him after Brutus allied himself against Cesar's enemy in the Battle of Pharsalus. When he saw Brutus was one of those who conspired in killing him. His last words "even you, Brutus?"

You see? Even in our history. We have our fair share of traitors. Like Cecilio Segismundo, Januario Galut, Apolinario Alcuitas, Miguel Vicos and Pedro Becbec. Don't you know them? Of course you won't know them. They are traitors and don't deserve just as much spotlight than those whose actions made them heroes in their own right.
Traitors. They are everywhere. Even your best-friend who lied to you and secretly swooned your girlfriend/boyfriend and slowly but painfully steals her/him from you. That must have hurt right?
Philippine politics is no exemption. After Ferdinand Marcos betrayed us and imposed the dark ages of Philippine history. Where many people disappeared and killed. Our national coffers plundered dry to enrich the lives of the Marcos Family and their cronies. Those who lived during those darkest era of Martial Law – knows this feeling too well as if it's 'De ja vu'.
We elected public officials with the sole confidence that they will work for our betterment and will always be there to defend our best interest. However, not all politicians are like that. Especially, those who wants power in a silver platter and gobble them all up as their. Especially those who are obsessed in it.
Here. We have Former President Gloria Macapagal Arroyo and President Rodrigo Duterte.
Two figures who surprisingly out of the ebbs and flows of time – shares the same cunning and selfish intent.
Sell the West Philippine Sea to the most likely buyer. China.
Let me explain to you why and how.
First, let's get back in time. Where did it all began?
1947: China demarcates its South China Sea territorial claims with a U-shaped line made up of eleven dashes on a map, covering most of the area. The Communist Party, which took over in 1949, removed the Gulf of Tonkin portion in 1953, erasing two of the dashes to make it a nine-dash line.
1994: The 1982 U.N. Convention on the Law of the Sea, under which the Philippines has taken China to arbitration, goes into effect after 60 countries ratify it. The agreement defines territorial waters, continental shelves and exclusive economic zones. The Philippines joined the convention in 1984, and China in 1996.
1995: China takes control of disputed Mischief Reef, constructing octagonal huts on stilts that Chinese officials say will serve as shelters for fishermen. The Philippines lodges a protest through the Association of Southeast Asian Nations.
1997: Philippine naval ships prevent Chinese boats from approaching Scarborough Shoal, eliciting a protest from China. The uninhabited reef, known as Huangyan Island in China, is 230 kilometers (145 miles) off the Philippines and about 1,000 kilometers (600 miles) from China. In ensuing years, the Philippines detains Chinese fishermen numerous times for alleged illegal fishing in the area.
2004: Joint Marine Seismic Undertaking entered into by the Arroyo government with China in 2004 which allowed China to explore not only the Philippine-occupied islands in the disputed mineral-rich Spratlys but areas that are clearly Philippine territory.
2004: Arroyo administration gained a  $904.38 million package of investment from China that included the graft-ridden Northrail, NBN-ZTE telecommunications deal and Zhongxing Technology Equipment (ZTE) Diwalwal mining project.
2009: China submits its nine-dash line map to the United Nations, stating it "has indisputable sovereignty over the islands in the South China Sea and the adjacent waters." The submission came in response to applications by Vietnam and Malaysia for recognition of extended continental shelves, which would give them resource rights. The Philippines, Vietnam, Malaysia and Indonesia protest the Chinese claim.
2011: The Philippines files a diplomatic protest after a chartered ship searching for oil and gas and in Reed Bank near the Spratly Islands complained of being harassed by two Chinese patrol boats, forcing it to change course.
2012: China takes effective control of Scarborough Shoal after a tense standoff between Chinese coast guard ships and a Philippine naval vessel that had stopped a Chinese fishing boat to inspect it.
2013: The Philippines brings its dispute with China to the Permanent Court of A:rbitration in The Hague, angering Beijing. A five-member panel of international legal experts is appointed in June to hear the case.
2014: The Philippine government summons China's top envoy in Manila in February to protest what it said was the firing of a water cannon by a Chinese government vessel to drive away Filipino fishermen from Scarborough Shoal. China ignores the protest and calls its sovereignty there "indisputable."
2015 : China reportedly starts reclamation and transforms the Panganiban (Mischief) Reef into a forward naval station. According to UNCLOS, artificial islands do not afford the occupying nation territorial waters.
2016 : The PCA announces that an arbitral tribunal has ruled in favor of the Philippines in its historic case against China. This is a historic win for the Philippines after a 3 year long legal battle in PCA. It's up to Duterte to uphold this victory and pressure China out of the West Philippine Sea.
2016: Suddenly, Duterte goes to China for a 4-day state visit, making headlines after Duterte announces on October 20 a "military and economic split" from the United States. The government secures billions worth of deals with China, including business-to-business contracts, public financing agreements, and soft loans for development projects.
2017: China installed cruise-missiles in its military bases in WPS which puts Palawan and Sea of Mindanao within range. Duterte made no comment and no formal diplomatic protest has been filed.
2018: Duterte declares yet another Joint Oil Exploration deal in the WPS. This time hinting 'Co-Ownership' of the disputed seas and its oil/energy resources within.

Source : Inquirer.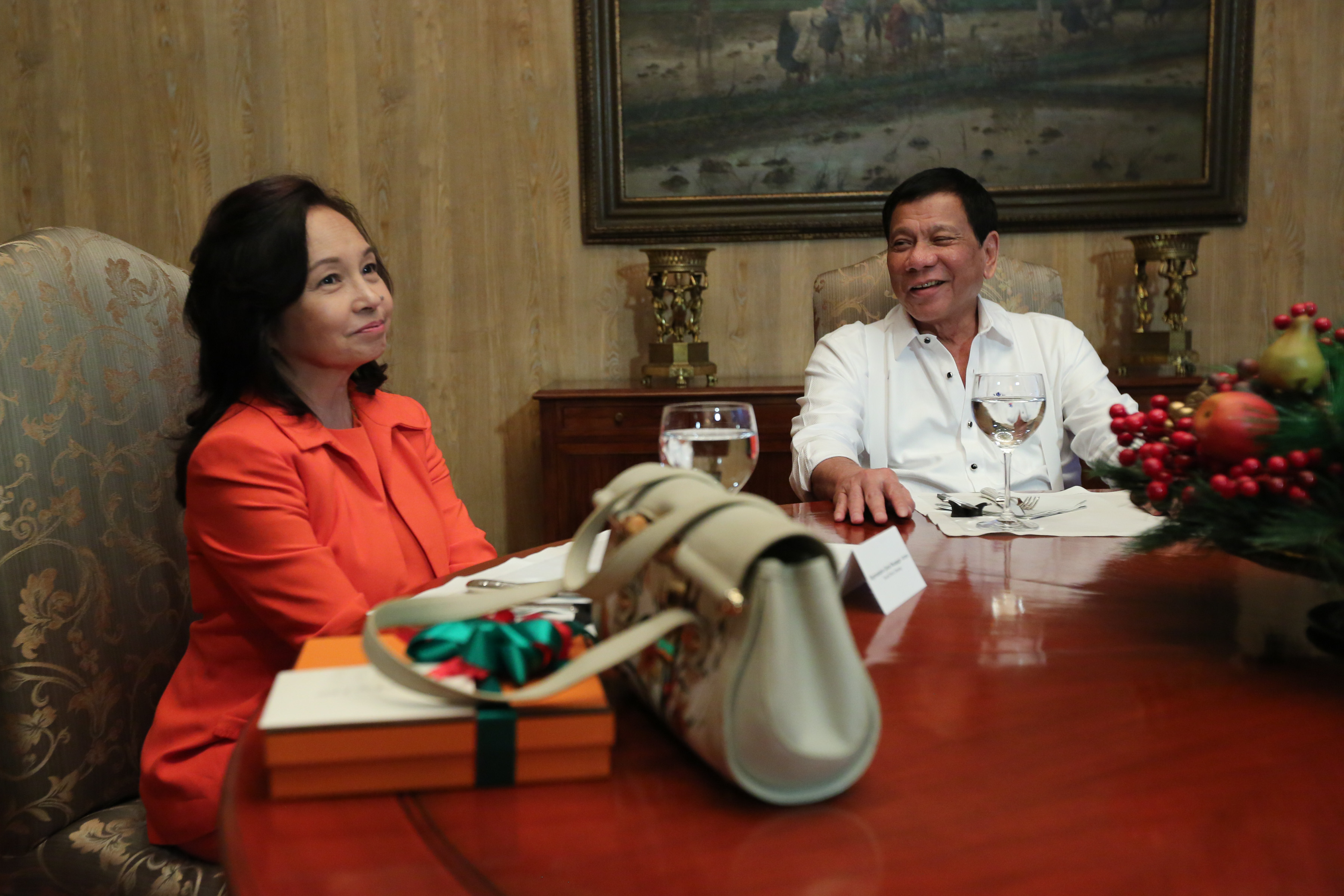 Now if you read up. I purposely colored red for Gloria's brazen treachery in selling rights to explore WPS in exchange of graft laden projects from China. And then we have Duterte who also did not enforce the recent PCA ruling to use all manner of diplomatic pressure in putting China back in its toast. Instead, in a sudden twist of political backpedalling. Duterte shifted to hardcore Pro China at a moments notice. This is colored in blue.
Did you see that? We could've potentially be left out with more than millions of barrels of oil and resources when we could have asserted our sovereignty and get those oil ourselves.
The two partners in crime — plots to betray the Filipino people once again in plain view (with the exception of the trolls, hardcore fanatics and paid fake accounts).
Your country needs you now more than ever. Speak up! Don't let your voice be drowned by threats and comments from cheap trolls/Fake News worshipers. If you are reading this blog post. Then chances are – you are well informed on what is happening in our country today than those in your peers who cared nothing less.
This is the moment where the Filipino people must once again be united to a single cause of action.
Kick these traitors out. We need to get our country back in its feet.
Share this with your friends!